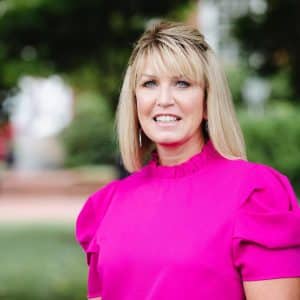 The world of small business isn't new to Dana Knott. Her very first job was with a family-owned outfit, a foundation that now informs her role as the Longwood SBDC's central region director.
"They were entrepreneurs, passionate about their businesses," said Knott. "I watched as they felt failures as well as celebrated successes. Their drive and determination made a strong impression. Later in my career teaching entrepreneurial courses, I realized that I was educating and inspiring the next generation of entrepreneurs."
Knott first learned about the SBDC as an undergraduate student in one of Longwood's business law classes. Later, as a career and technical education business and marketing instructor at Amelia County High School, she encountered the SBDC again when she incorporated RISE Collaborative's CO.STARTERS Generator program into her curriculum. This student entrepreneurship training program, co-facilitated by SBDC team member Jacob Dolence and Lauren Mathena of the Mid-Atlantic Broadband Communities Corporation and the SOVA Innovation Hub, helped Knott's students transform their entrepreneurial ideas into action. In May 2022, the Amelia High School team won first place and $1,500 in the culminating pitch competition for their project, the Raider Relaxation Room, a place for students to de-stress, take a breath and focus on their mental health.
"That is when I realized my passion for the entrepreneurial process," said Knott. "Watching my students collaborate and create innovative products and ideas to benefit the community was exhilarating."
In August 2023, Knott returned to her alma mater thrilled to begin her dream job at the SBDC.
"Not only do I get to use all of my previous business experience to help communities and small businesses, but also my education experience to help students," said Knott. "It feels like everything in my career has been knit together to build up to this position."
Knott's skills in management, consulting, economics and education perfectly align with the SBDC's core mission: to empower and support current and aspiring small business owners through education, consulting and economic research. Her diverse experience spans retail, business management, marketing and workforce development. Her credentials include a B.S. in political science/pre-law from Longwood University, a post-baccalaureate certificate in public administration from Virginia Commonwealth University and an MBA in business management from Averett College.
In her role as central region director, Knott builds relationships, engages directly with stakeholders and helps to connect small businesses and communities with the resources they need to expand their entrepreneurial ecosystems. Additionally, she works to support Farmville's SEED Innovation Hub in becoming a catalyst for regional innovation.
"The pandemic changed the way people do business," said Knott. "However, it also set the stage for so many new and innovative products and business concepts."
Knott identifies access to capital and market pressure as the leading hurdles for today's small businesses. To those with entrepreneurial dreams, she advocates for a methodical approach: take it slow, invest in research and ask for assistance when needed.
"Small business owners are struggling with securing financial resources while dealing with high interest rates on business loans to start their business," she said. "They are also feeling market pressure from larger companies in urban areas that have more resources at their disposal — and from the internet. Now is the time for small businesses and entrepreneurs to seek guidance from the SBDC, utilize their resources and learn from their team of expert consultants."
Knott, who joyfully described herself as a "nerd at heart," can't contain her enthusiasm for the vast resources available at the SBDC. She is particularly excited about conducting community research, utilizing SBDC technology resources, such as ESRI GIS Business Analyst Online, to complete competitive analyses. But her excitement isn't just about the numbers and data. It's about aligning with entrepreneurs and ensuring they have access to these invaluable resources.
"Small business and entrepreneurs are the pulse of any community, and the SBDC provides crucial support and resources for them to be successful."