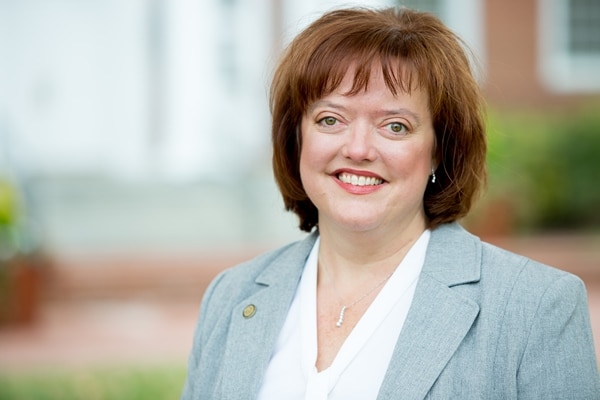 Longwood SBDC Executive Director Sheri McGuire has dedicated her career to increasing opportunity in Southern Virginia. Since taking the helm in 2005, she has focused on building an effective team, honing the SBDC's funding strategy and bridging the gap with Longwood's academics, tapping into a wealth of faculty resources and expertise.
"I love being connected to a university because it gives the SBDC more leverage, more resources and more support," said McGuire.
McGuire's interest in the SBDC started when she interned with the organization as a Longwood student in 1990. From there, she jumped into the role of project manager, rising in the ranks to business analyst, associate director and finally executive director. In 2016, McGuire took on the additional role of associate vice president for community and economic development.
"My role as associate VP has been trying to find all the different people and pieces that we need to make these broader projects — and the SBDC — function well," she explained. "I'm a pattern person. I look for opportunities to connect people and resources."
McGuire's goal — and the SBDC's mission — is to open doors and provide paths for rural entrepreneurs who might not always have easy access to the same resources available in larger areas of Virginia.
"Folks come in, and they don't think about everything that is possible," she said. "They think they're limited. While that might be true in some ways, it's not in others."
Under McGuire's leadership, local investment in the SBDC's work has grown as the organization has steadily responded to needs from economic development and planning officials. Recently, this led to a special project in partnership with GO Virginia Region 3 and the SOVA Innovation Hub: formulating a regional strategy for innovation and entrepreneurship. The resulting plan included provisions for connecting regional resources and providing business bootcamps. It also created a physical hub where innovators can meet: the new SEED Innovation Hub, located just down the road from the SBDC's main office in Farmville.
"The SEED is a place where you're not sure what connection you might make," McGuire said. "We'll have K-12 and community college activities. We'll have Longwood and Hampden-Sydney students. We'll have local entrepreneurs who are willing to coach and mentor."
McGuire looks forward to the "creative collisions" these connections will inspire.
"Someone will be able to walk in and learn how to make something — create something that doesn't exist," she said.
"All of our involvement in the planning process has spurred growth on our side, too. The SBDC is the foundation of it all. This is where we make the connections. This is where we understand the community. These are the partnerships we've built. From there, Longwood gets more opportunities to participate in and support regional growth."
Like Farmville's new innovation hub, the SBDC has truly become a connector, planting roots in local organizations, opening doors for entrepreneurs, and supporting projects that benefit the entire community — not just small business.
"We're known as ecosystem builders now," said McGuire. "Our work isn't just limited to helping someone with a specific problem. It's more about thinking holistically: What else? What other opportunities might be there for clients based on who they know? Or who we know? Or what we know about the area?"
Finding those avenues of possibility encourages aspiring small business owners to stay in the community and develop their skills. It also creates a self-propelled cycle of regional opportunity — and points towards a bright future for Southern Virginia.
Sheri McGuire
Executive Director – Longwood SBDC
Telephone: 434.395.2360
[email protected]