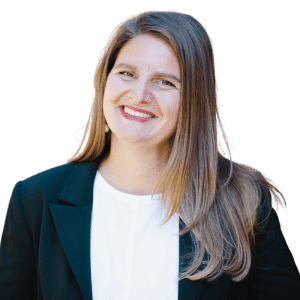 Ilsa Loeser first discovered the Longwood SBDC as a client enrolled in the business startup course. Today, as the founder of a successful marketing agency, she provides education and support to fellow entrepreneurs in her role as an SBDC consultant. Better yet, her agency helps other small businesses in rural Virginia to thrive.
"It was because of that startup course that I actually started my company, Letterpress Communications," said Loeser.
Established in 2015, Letterpress Communications assists organizations with marketing strategies to increase the effectiveness of their communications and outreach. Since its inception, Letterpress has grown to serve over 50 clients a year and employ 10 team members. In collaboration with the SBDC, the agency offers classes and detailed marketing audits to small businesses throughout Southside Virginia.
"Small business owners don't often have a lot of time," Loeser said. "Our goal is to say: What's the best way to use that limited amount of time so that it can have the most impact for your business?"
In fact, the Longwood SBDC was one of Letterpress' first clients.
"They contracted with my company, which was just me at the time, to write about businesses they had supported and the successes of those businesses," she said.
As an SBDC consultant, Loeser's specialties encompass a range of marketing services, including social media training classes and marketing audits, which analyze a business' goals and current communication and then recommend strategies to increase outreach.
"I really enjoy sitting with 10 to 15 small business owners to brainstorm ideas and see the light bulbs go on."
Loeser is passionate about assisting other small businesses because they offer numerous services to support their communities.
"I believe it's the small businesses rooted in our communities that have the largest positive impact on regional vitality," she said. "If small businesses close, you lose the heart of the town. Then you lose other services, like the post office, and — ultimately — you lose the community."
To prevent this decline, the SBDC provides small business owners with specialized consultants to address their specific concerns. While Loeser works specifically in marketing, the organization also has advisers that assist business owners with bookkeeping, retail, product marketing, hiring and HR.
Adding to the SBDC's unique qualities is its large coverage area with service to the western, central and eastern regions of Southern Virginia. Loeser values the SBDC's involvement in economic development and their new partnerships, as they create collaborative spaces for the community and peer-to-peer support.
For aspiring small business owners, Loeser noted that seeking help from others is essential.
"The biggest key to being a successful entrepreneur is being willing to ask for guidance or insight and then choosing the insight that best fits for you and your company," she said. "The SBDC is a great resource in that regard."