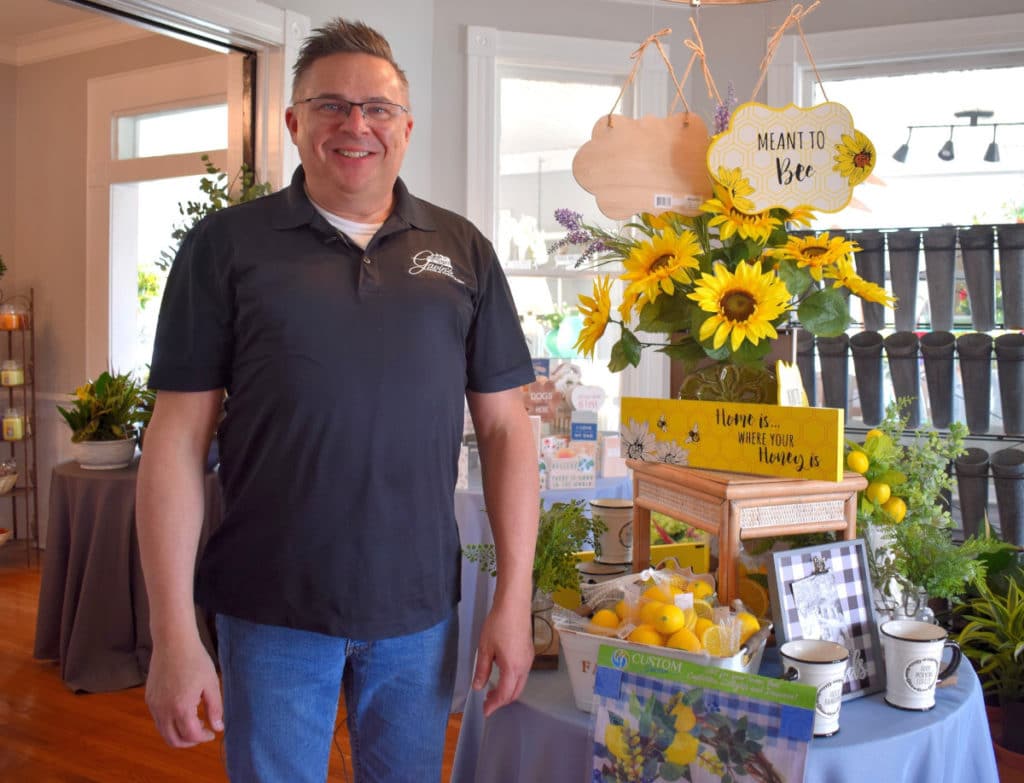 Business is growing in more ways than one at Gavin's House of Flowers in South Hill.
After a year of pandemic challenges, owner Gavin Honeycutt has added hope to his business plan. For that, he credits the Longwood Small Business Development Center (SBDC).
"Last year was a hard year," Honeycutt said. "After the pandemic shut everything down, I found myself losing interest — I was in a rut."
Fortunately, Katherine Beale was there to help. She is one of three specialized consultants added to the SBDC team in 2020 to help small business owners meet the challenges of COVID-19.
Beale, a Longwood University alumna and retail specialist, has worked for a variety of retail and financial firms including Saks Fifth Avenue and JP Morgan Chase.
"Katherine Beale set up a meeting in South Hill about the time the pandemic started," Honeycutt recalled. "I decided to call her one afternoon and ask her to come by."
That meeting, as Honeycutt put it, started the ball rolling.
"Katherine wanted to know where my business was. She wanted to know where I wanted the business to go — and what that would look like," Honeycutt related. "We started putting together a plan that rejuvenated the spark I had lost."
Admittedly, there were many losses during the previous year.
"We lost all of our proms in 2020, a huge business loss for us," Honeycutt noted.
To make up for such losses, Beale urged Honeycutt to go online.
"I knew business was moving that way, but I also knew I was not a computer person," Honeycutt said.
Undeterred, Beale connected Honeycutt with a local teacher who helped him improve his marketing reach with Facebook Live.
"Katherine showed me how to keep our marketing current, savvy and interesting," Honeycutt added. "After working with Katherine and the resources she provided, my phone started to ring again, and merchandise started to go out."
Despite the challenges of COVID-19, Gavin's House of Flowers realized a 10 percent increase in sales in 2020.
"SBDC gave me clarity and vision — and hope," Honeycutt said. "Katherine Beale believed in me at a time when I didn't believe in myself. Even though I felt that the light had gone out, she knew a spark was still there."
That spark, rekindled with SBDC guidance, rejuvenated Honeycutt's creative side.
A complete renovation of the Gavin's House of Flowers, a Victorian style two-story home built around 1898, was completed in early 2021.
"We painted inside, put in all new lighting and refinished the original hardwood floors," Honeycutt related. "A spring open house is planned to showcase some of the things we have to offer in home décor, accent pieces and boutique clothing."
Going forward, Honeycutt plans to give SBDC a major role in his business.
"I know SBDC consultants like Katherine Beale are there to help me plan for the future," he concluded. "Because of SBDC, I have my vision — because of SBDC, it's already happening!"