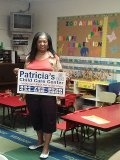 In 2003, Mrs. Patricia Feggins Clary purchased a former retail clothing store building at 434 Piney Pond Road, Brodnax, Virginia.  She made numerous renovations to make the building and outdoor area suitable for a child care center.  She had a dream of owning a child care center and providing child care for families in Mecklenburg and Brunswick counties.
In 2004, Patricia's Child Care Center officially opened.  Since its opening, the center has been approved as a licensed child daycare provider by the Virginia Department of Social Services.  It is licensed for up to 60 children from the age of two months to 12 years of age.  The center now employs nine child care providers.
During the first years of operations, the center was challenged to keep its doors open due to low enrollment, staff training, and state inspections.  During this time, Mrs. Feggins Clary continued to work to increase enrollment and also worked on her second dream of going to college and earning a degree.  Her dream was realized in 2009 when she obtained her Associate Degree in Early Childhood Education from Kaplan University.
In 2003, Mrs. Feggins Clary contacted Larry Harris of the Longwood Small Business Development Center (SBDC) and discussed her desire to open a child care center in Southside Virginia.  Mrs. Feggins Clary states:  "While I had been a store manager for 'McDonalds' for over 20 years and knew how to run a business, Mr. Harris of the Longwood SBDC helped me to develop my business plan for a child care center in addition to encouraging me to continue to strive for my dream of opening a child care center in an area where it was most needed".  Patricia maintains several important business relationships within the community she serves.  She has been a member of the local Chamber of Commerce since 2006 and was recently accredited by the Better Business Bureau.  She also provides assistance to the very agency that assisted her in realizing her dream by serving on the Longwood SBDC Advisory Board, South Boston Branch.