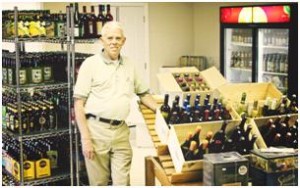 In January of 2012, John Harville decided to explore the feasibility of turning his wine and beer making hobby into a viable business venture.  He came to the Longwood SBDC – Danville to discuss his idea and request help with finding the industry data and demographics that would help him make his decision.  The Longwood SBDC provided him extensive research reports including customer demographics, reports on the micro beer and wine industries, and the market potential in dollars and household expenditures.  Based on the data John felt comfortable in moving ahead with opening his shop.
Since John had an S Corporation company still in operation, the Longwood SBDC advised him to use it as his legal entity and use dba Virginia Caps & Corks thus saving time and money. He also owned a small commercial building on a busy road that provided him with a great location so he immediately began renovating. After several months of working through the permitting process and lining up his suppliers VA Caps & Corks had a soft opening in May.  In June, the SBDC arranged for John to be interviewed by a local business reporter.  The story and pictures first appeared on WorkitSOVA and then became a feature story in the local paper and was picked up by several news organizations giving him wide coverage in the region.
For the home brew enthusiast and amateur vintner, Virginia Caps & Corks sells everything from ingredients, recipes, necessary equipment as well as beer and wine kits. The shop has a large selection of craft beers that are not sold elsewhere in this area and a selection of regional wines.  John holds demonstrations on how to make home brew and wine and offers his customers and the public regularly scheduled beer and wine tastings.  The shop focuses on offering products not found elsewhere in the market and includes such items as artisan cheeses, crackers, blackberry, vanilla cinnamon and apple pancake syrup, Route 11 Potato Chips, dip mixes, Williamsburg Peanuts and candy.  Longwood SBDC staff also helped John with his Facebook page, setting up Google Places and getting QR codes on his marketing materials.  He was also enrolled in the Virginia SBDC's Small Town Merchant Program and the Social Media program.
VA Caps & Corks fills a much needed retail niche in the Danville market for craft beer enthusiasts,  homemade wine hobbyist and wine aficionados! Virginia Caps and Corks is located at 2720 Westover Drive in Danville, Virginia.