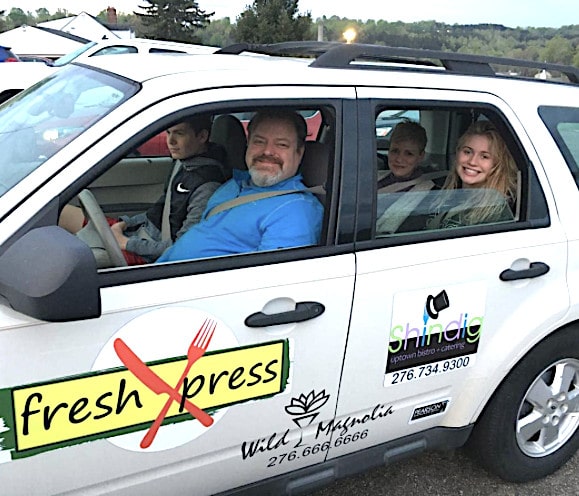 In mid-March when the COVID-19 crisis arrived in Martinsville, Will Pearson called Longwood Small Business Development Center (SBDC) Business Analyst Michael Scales. He considers it his lucky day.
"We heard rumors about grants coming out when everything shut down," Pearson relates. "A city councilman advised me to talk to Michael, so I did. He met me in his office that morning."
A Martinsville businessman for 25 years, Pearson got his start in the bowling industry with Sportlanes, a bowling alley with attached restaurant. Twelve years ago Pearson and his wife Tammy expanded their business holdings with Wild Magnolia Restaurant.
"We had an opportunity to buy the property, so we signed a lease and developed a business plan — all in the wrong order," he adds.
Several years ago the couple added a catering business, Shindig Uptown Bistro and Catering.
The COVID-19 shutdown had a devastating impact on all three businesses. Sportlanes and Ten Pin Café closed; Wild Magnolia and Shindig were limited to curbside pickup, carryout or delivery.
With business disrupted, Pearson wisely sought advice from SBDC.
"Michael Scales was super helpful," he says. "I called on a Monday morning, and he met me right away. He talked about the different loans available and advised me on how to apply."
First, Scales explained the process for applying for the Economic Injury Disaster Loan (EIDL) that offered businesses up to $10,000 of economic relief.
"It was Michael who reminded me to check the box on the application for the $10,000 cash advance," Pearson says.
As a result of SBDC's assistance, Pearson received a $10,000 advance for each of his businesses.
The Payroll Protection Program (PPP) was next on the list.
"Michael Scales gave me a great piece of advice," Pearson recalls. "Since the PPP was going to be handled by banks, Michael advised me to call all my banking contacts to see which one would put me at the top of their list. I did that and ended up working with Fidelity where they were very helpful."
SBDC's guidance allowed Pearson to sidestep problems other small business owners encountered with PPP loan applications.
"I ended up receiving $26,000 each for Shindig and Sportlanes and $44,000 for Wild Magnolia," he relates. "That allowed me to bring back my bowling alley employees. That was huge."
Pearson firmly believes SBDC was the secret to his loan success story.
"Michael Scales was a super star," he says. "The first couple of weeks he checked in with me daily. In small town Virginia it's amazing to have the resources SBDC has to offer."
In addition to loan advice, Scales talked about surviving the current business environment and how to learn from it.
Pearson's already made significant changes.
"In the past I bought a vehicle to do deliveries but had never done it," he relates. "The shutdown forced my hand."
With two teenagers at home after the schools were closed, Pearson already had an in-house delivery team.
"They rotate deliveries every day," Pearson reports of his teen delivery team. "We've all learned a lot from this — in many ways it's brought our family closer."
Pearson also believes in bringing his community together for a good cause.
"We do 'Thankful Tuesdays,' a discount for all front line workers and encourage the community to buy meals for hospital workers or the fire department," he adds. "It's been a big success."
On Thursdays Pearson does a local TV show, "Eat good with Will" where he offers cooking tips for those cooking at home.
Pearson believes that his businesses would not have continued as they have without the guidance he received from SBDC.
"I can't tell you where I'd be right now if it wasn't for Longwood SBDC and Michael Scales," Pearson concludes. "I can't thank them enough."