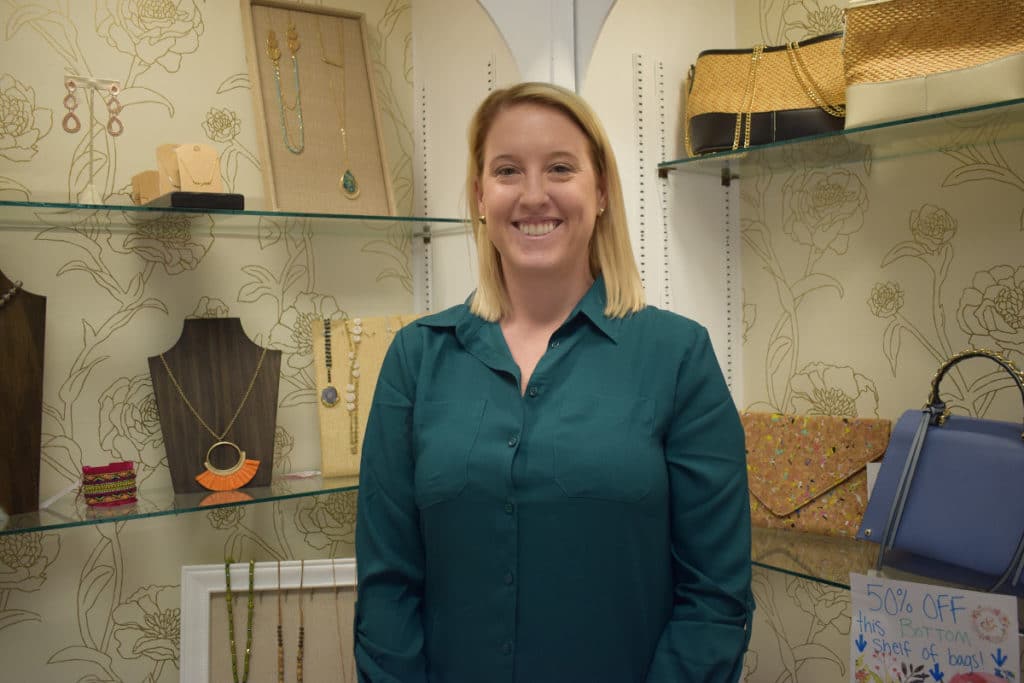 In 2017 Lauren Tetterton and Taylor Jennings decided to open a women's clothing store in Downtown South Boston (SoBo) that would offer more than a no-frills shopping experience. The result was Southern Frills, a trendy boutique with a focus on customer service.
"South Boston had very limited shopping and not much variety," Tetterton says. "We wanted the opportunity to provide the community with more options."
The opportunity for them to open a business came about in 2017 when Destination Downtown South Boston (DDSB) launched its SoBo Startup Program. Six South Boston entrepreneurs who completed a six-week course on business basics and presented a winning business plan were selected to receive a $10,000 grant. Longwood Small Business Development Center (SBDC) Regional Director Lin Hite planned and taught the classes.
"We could not have started our business when we did without that grant," Tetterton says. "It was a huge help for us."
While Tetterton, who holds an MBA, was familiar with business practices, the courses Hite taught provided some needed specifics.
"There are lots of things you just don't know when you start out," Tetterton adds.
Hite also provided help with Southern Frill's business plan.
"Writing a business plan can be overwhelming," Tetterton says. "Lin comes from a retail background. Having him take a look at our plan gave us some guidance."
As grant recipients Tetterton and Jennings were required to open their business downtown.
"Destination Downtown provided us with a list of vacant buildings," she relates. "We selected 417 Main Street, previously Hodges Jewelry."
Once the building was secured, a two-month renovation began.
"The building had a lot of jewelry cases and brown walls," she relates. "We ripped all that out and exposed the old brick walls — that was an exciting find."
Grant funding allowed Tetterton and Jennings to open without additional financing.
"We started doing online sales in June 2017 before opening the store in September," Tetterton explains. "We were able to make a profit from June to September, which helped us generate cash flow before opening."
Throughout the process, Lin Hite kept in touch.
"Lin continues to follow up with us to see how we're doing," Tetterton says.
Recently the Southern Frills owners took a four-week course for existing businesses.
"The first week was on retention, the second week we talked about marketing, and the third week SBDC's Virginia Retail Consultant Marc Wilson came to speak," Tetterton says.
While learning the ropes as new business owners, Tetterton and Jennings have remained focused on customer service.
"Our staff gets to know our customers and what styles they like," Tetterton says. "Offering that boutique service is an important part of our business plan."
It's a plan that pays dividends.
"Last year we met our goal for 2018," Tetterton notes. "Now we increased that for this year."
Tetterton and Jennings appreciate all the assistance SBDC has provided.
"I would absolutely recommend SBDC to anyone," Tetterton affirms.
Looking to the future, Southern Frills' goal is regional and national growth.
"When we opened we thought there was no way we could fill this store," Tetterton says with a smile. "Now we're at the point where we've taken over all our space, so we'll have to grow online. I expect we'll be meeting with Lin Hite soon."
These days, Tetterton sees new life in Downtown South Boston.
"I was born and raised here, and I remember shopping trips to South Boston as a child," she concludes. "It's nice to have that experience here again as an adult."