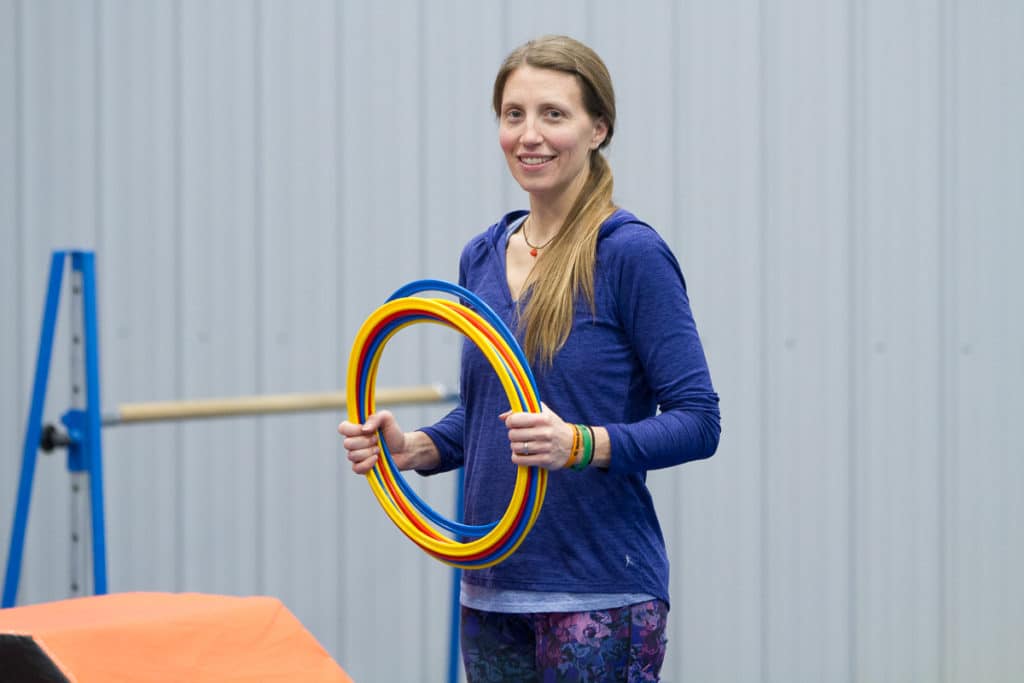 As a gymnast Natalie Kimmel likes to keep moving. When Kimmel had an idea for a gym and tumbling center, she took it to Longwood Small Business Development Center (SBDC). Motion Gymnastics, now in its second year, is on solid ground and growing.
Kimmel, a pre-K instructor at a local preschool  in Farmville, grew up in a small town in Indiana.
"I got my degree in special education in elementary education  from Indiana University," she said. "I taught for six years in Indiana before my husband's job brought us to Farmville."
Kimmel, who trained and competed in the USA Gymnastics (USAG) Junior Olympic program, was dismayed to find that Farmville had no gym.
"I taught tumbling classes at the YMCA for four years, but when that position ended, I started thinking about opening my own gym," she said. "A friend of mine had just consulted SBDC for assistance in starting her own business, so I decided to give them a call."
At Longwood SBDC, Kimmel found a welcoming attitude and a wealth of information.
"They helped me run the numbers and price equipment," she related. "My consultant put me in touch with the owner of the building where I'm located."
Kimmel continued to plan and meet with SBDC.
"I'd do my homework and then come back," she added.
During the planning stages, SBDC helped set up a focus group that included local families with small children.
"In the focus group we talked about different ideas about classes and pricing," Kimmel said. "That gave me some feedback — and the confidence to go ahead."
The next step was to secure a business loan.
"Creating a business plan was a very valuable piece when looking for a loan," Kimmel added. "With a projection sheet I could speak to the bank. I'm very glad I had that tool."
Kimmel, now in her second year as a business owner, still refers to her business plan.
"I have that as a sounding board," she said. "I know where I stand."
Kimmel started her business in October 2016 with roughly 100 students.
"I actually had people sign up a month before I opened my doors," she said. "That was encouraging."
Now Kimmel teaches 20 classes a week with 150 students — an increase of 50 percent in one year. While she is currently the only employee, Kimmel plans to add more instructors in the future.
Whatever that future brings, Kimmel is reassured by the fact that she can return to SBDC for assistance and advice.
"I called my SBDC consultant after I opened my business," she said. "I remember asking him — 'Am I supposed to stop calling now?'"
He assured Kimmel that she was always welcome to come back to SBDC.
"He said that some of his best clients continued to call SBDC on a regular basis," she said. "He told me that if you're asking questions, you're doing something right."
"The attitude at the SBDC office was great," Kimmel concluded. "As a small business owner I appreciate that very much."