CONSULTANT Kim Ray
CLIENT SINCE 2010
INDUSTRY surveying services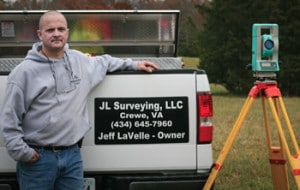 Jeff LaVelle, a licensed surveyor with over 26 years of experience, founded J L Surveying, LLC in 2010 to provide surveying services across Virginia. His wife, Beverly, is Office Manager and has over 24 years of customer service experience.
Knowing that entrepreneurship is risky, the Lavelle's sought assistance from LSBDC to help them plan thoroughly before accepting clients.
Jeff's desire to own his own business was realized through a combination of his own experience and love of being outdoors, and assistance from LSBDC.
Located in Crewe, the company contributes to economic growth by continuing to expand services and adding new employees. While Jeff confesses that owning a business is hard work, he says it's allowed him to be in the area to watch his kids grow up.
Jeff says, "LSBDC was a great asset in helping get the business off the ground. They continue to be an invaluable resource with their educational seminars and being continuously available whenever I have questions."