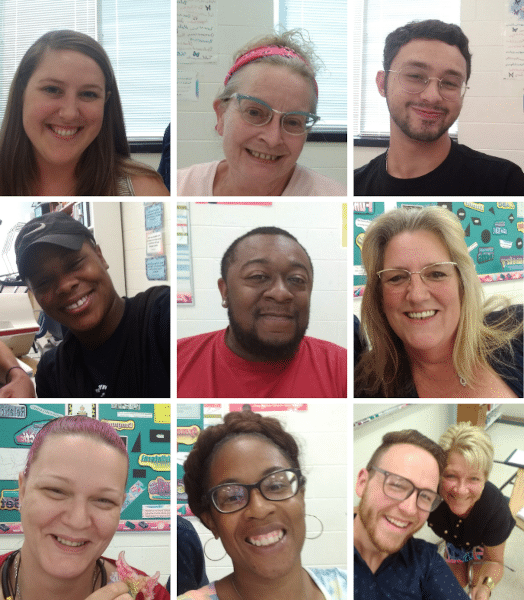 Starting your own business is exciting, but it can also be isolating and overwhelming. That's why CO.STARTERS uses a cohort method. We bring you together with other starters to learn all the need-to-know info for your business in a fun and engaging way. CO.STARTERS is for everyone with business ideas in any industry, at any level of experience, and with any degree of training.
"People with really impressive academic resumes are on the same level as anyone else when it comes to starting a business," says Jeannie Nelson, owner of Liberty Hollow Sweets, who completed the CO.STARTERS Core program hosted by the Longwood SBDC and Downtown Blackstone Inc in 2021. "We were equal no matter what type of business we were in. I also felt like a real part of a very diverse group with different and exciting ideas."
Participating in the CO.STARTERS Core program is more than signing up for a business lecture class. During the 10-week program, you'll work through a process designed to spur action and put your business plan in motion, doing so alongside other like-minded starters in the region.
CO.STARTERS keeps the process of business development easy to digest, so previous business experience is not necessary to succeed in the program. The only requirements are to have an idea; a willingness to question, shape and fine-tune that idea; and an openness to discussing that idea with others.
"I loved how accessible the information was made to be for someone who has never taken a single business class," said Emma Rixmann, who also completed the CO.STARTERS Core program with the Longwood SBDC and Downtown Blackstone Inc. Rixmann is the owner of Olive Branch Behavioral Health LLC, founded in May 2021 and is using the CO.STARTERS curriculum to help get her business going. "I appreciated the structure and utilization of the business model canvas. The peer support was invaluable."
The peer support fostered by CO.STARTERS doesn't end at the conclusion of the 10-week program, either. The relationships that begin at CO.STARTERS Core programs often continue to grow afterwards as participants refer to, partner with, and grow alongside each other. By joining CO.STARTERS, you will opt into the creation of a close-knit network of founders who can work together and mentor each other for years to come.
"I enjoyed the interaction with my classmates," said Alicia Barfield, owner of RV Mom in Pink and another participant in the CO.STARTERS cohort with Downtown Blackstone Inc. "I learned that even though we're different, we can still use each other for the betterment of all our endeavors."
While some have tried classes and others have turned to YouTube, our cohort approach to the business model canvas is a better fit for most aspiring starters because of the group dynamic and streamlined educational model.
"Doing it on your own, the knowledge is scattered," said Carl Bassfield, owner of In-depth Productions. "With this program it's all in one place and it's explained to you in such a way that success is in tow."
The journey to long-term business success begins soon for the upcoming Southern Virginia CO.STARTERS cohort. Starting August 18, the virtual cohort will be open to anyone in Southern Virginia who wants to start or grow a business in the region. To participate, you will need access to high-speed internet and a personal device (like a computer or tablet) with the ability to share video. The ability to share videos and view speakers' shared screens is critical to working with our lineup of dedicated, innovative, and supportive advisors.
If broadband or a quiet place to concentrate is missing from your equation, please contact the Longwood SBDC, the SOVA Innovation Hub or your local library to find a place where you can participate in the 10 virtual sessions on Wednesday nights from 6-9 p.m.
The upcoming cohort is our first region-wide, virtual version of the program. However, our recent CO.STARTERS cohort hosted for aspiring business owners in Downtown Blackstone (in Nottoway County) was an amazing group experience that fostered strong connections between individuals throughout the process, which is exactly the outcome our model is designed to achieve.
"The competition and camaraderie both help motivate you to really take your business seriously and start working on your plan," said Farris Jarrar, a CO.STARTERS participant.
Added Jarrar, "If you don't do it now, when will you?"
If you're ready to start your dream and find your circle, take the next step and apply today at  sovainnovationhub.com/costarters. Registration closes August 6th.
---
Image from left to right, Top row: Emma Rixmann, Jan Daniel, Farris Jarrar; Middle row: Stephanie Smith-Fowlkes, Carl Bassfield, Jeannie Nelson; Bottom row: Ally Barfield, Tempie Walton-Berry, CO.STARTERS Core Facilitators Brandon Hennessey and Katherine Beale.
The Blackstone cohort was able to meet in person. As we begin our first virtual cohort, we look forward to using video meeting technology to still foster great relationships and business connections among participants and facilitators. If you have questions about Zoom or need help accessing wifi or a device with two-way video, please don't let that stop you from applying – we are happy to help you solve those challenges.