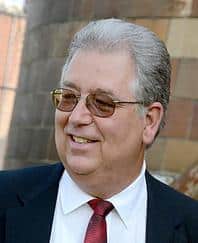 Creating a successful business is like making a pumpkin pie. At least that's what Small Business Development Center (SBDC) consultant Donald Nodtvedt believes. It's as simple as finding the right recipe and following it.
Nodtvedt knows a thing or two about pumpkin pies. Retired from Nestle Food Company after more than 32 years, Nodtvedt was factory manager for 17 years, five of which were in Nestle's Pumpkin Operation.
A consultant for SBDC since September 2016, Nodtvedt enjoys sharing his extensive management background with new and existing small businesses. Human resources, he notes, is an often neglected but vital part of every business plan.
"Many businesses jump into work mode and skip the setup and planning," he says.
SBDC guides new and existing businesses through these planning stages free of charge.
Read on for some of Nodtvedt's tips on human resource development.
#1 Create a vision and mission
"You have to have a picture of where you're going followed by tiered and aligned goals and objectives," Nodtvedt says. "An HR department can't function without it."
He suggests a short four-to-five-word statement like Nestle's "Good Food, Good Life."
"It becomes the company standard," he adds. "Then if something doesn't support that vision and mission, don't do it."
#2 Develop an employee handbook
Every business, large or small, needs an employee handbook that includes procedures and policies created with a broad perspective.
"For a small business, you don't need much," Nodtvedt advises. "Human resources is the head to facilitate these policies — that's the real key."
#3 Hold performance reviews
Performance reviews should be held at least annually, Nodtvedt advises.
"Reviews need to focus on both strengths and weaknesses," he says. "Resulting performance plans should accentuate the positive as well as address the negatives."
Sometimes the solution is as simple as reassigning an employee to another area that motivates and matches skills and interest.
#4 Create a legacy
"A good organization believes in its sustainability," Nodtvedt says. "It's not just about one person. Human resources must train employees to help create that legacy."
A "familial" relationship, Nodtvedt believes, is the key.
"Every manager should know their employees and what's important to them," he says. "Organizations that have that kind of relationship clearly have the best safety and quality records, the highest productivity, and frankly the best return on investment."
"I would add one more important HR function," Nodtvedt concludes. "Hire great people!"
To make an appointment or for more information on the services SBDC provides, contact the Longwood Small Business Development center at (434) 395-2086 or visit www.sbdc-longwood.com.