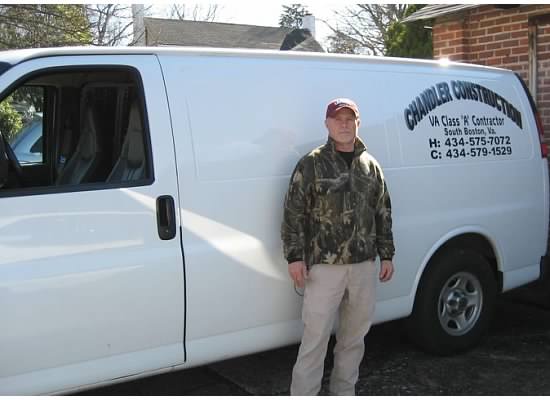 Charles "Mike "Chandler, owner of Chandler Construction of VA, Inc., started his Class "A" Contractor business in 1993.  The company does commercial and residential construction and remodeling.
In 2011, he contacted the South Boston Branch of the Longwood Small Business Development Center (LSBDC) looking for options to restructure his loans.  The LSBDC assisted him with writing a business plan and his loan application.  His business plan and loan application were submitted to a local bank and his loan request was approved.  In June 2012, Mike continued to strengthen skill sets by attending a seminar on "Basis Bookkeeping and Basic Payroll for Small Business Owners" at the LSBDC.
Despite a struggling economy and a decline in home construction over the past four years Chandler Construction of VA Inc. has continued to stay busy building and remodeling homes.  Mr. Chandler stated "the Longwood Small Business Development Center in South Boston was very instrumental in helping me restructure my loans and getting me on the right path to compete in today's economy.  The South Boston office went above and beyond in helping me."
Chandler Construction of VA, Inc. is located at 3071 Dan River Church Road in South Boston, Virginia.  For further information you may email [email protected].