CONSULTANT Larry Harris
CLIENT SINCE 2008
INDUSTRY lawn equipment sales & services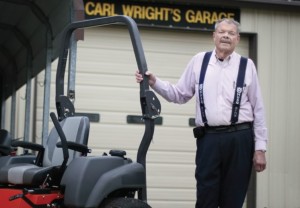 Carl Wright's Garage, Inc., in business for 37 years, sells and services lawn care equipment and has 4 employees. Carl's first LSBDC seminar was 2008's "How to do Business with Virginia," in South Boston.
After completing the seminar, he became certified to do business with state agencies, which has helped to increase his sales.
He also attended LSBDC's "Setting the Stage for Performance in a New Economy," conducted by Retail Industry Consultant Marc Wilson. Marc also visited Carl Wright's Garage for a one-on-one to discuss how he could increase his sales.
Carl's enthusiasm for LSBDC has driven him to serve as a volunteer on the South Boston Branch's Advisory Board since its inception, helping to create a cycle of success for area businesses. He says, "I've used Longwood's SBDC services repeatedly, and I've found them just as helpful for those in business as they are for startups. Their services have been instrumental to my business growth."