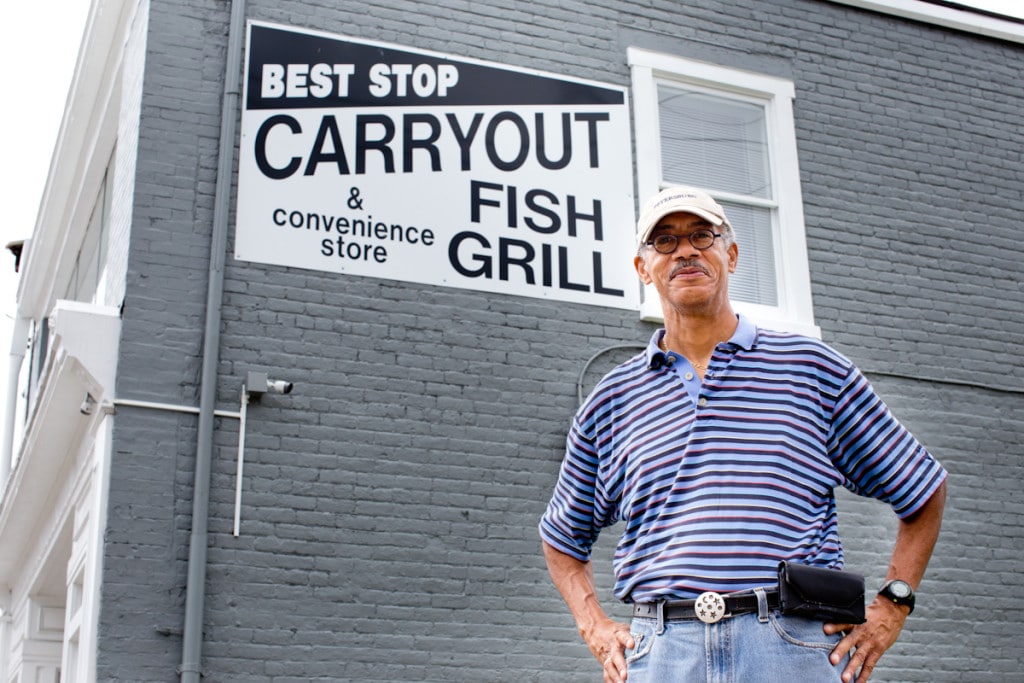 When customers walk through the door of Best Stop Carry Out Fish they generally say two things.
"First they tell me your building is beautiful," attorney and former delegate to Virginia's 63rd District Joe Preston said.
"Then they thank me for being here."
Best Stop is located in a century-old building, previously a pawnshop in an area with, as Preston put it, "a little crime problem." Now it's the center of an up-and-coming neighborhood.
"I wanted to do something for the community, and this is a great way to give back,"
he said. "Other than Andrew's Grill and a Church's Chicken, there was no food service down here at all."
Preston's first step in opening his business was to make plans for an extensive renovation.
"This building was built in 1909, and it was literally falling down," he said.
Preston started his project at a bad time — 2008. He had just contacted an architect and spent $30,000 on a design for the building when the stock market crashed and the banking industry followed suit. A short time later Preston's contractor filed for bankruptcy.
"It was a financial nightmare," he said. "I basically carried an uncompleted building for four years."
During that time Longwood Small Business Development Center (SBDC) became Preston's lifeline.
"I worked with SBDC for eight years — I never lost contact with them," he said. "The bank turned me down twice, but Pat Hood at SBDC told me to 'hang in there.'"
Although the project was on hold, the Petersburg SBDC consultant continued to call Preston and offer encouragement.
"Pat gave me the right information and always returned my calls — little stuff that you appreciate," Preston said. "As soon as I got the money to do the renovation, I went right back to SBDC. I'd never done a business plan before. Pat got me with an accountant and showed me some things I'd never thought about."
Best Stop Carry Out Fish opened in March 2016.
"We had a great first week — in one day we filled 98 orders," Preston said. "Now I have a carryout breakfast you can't get at most sit-down restaurants. I'm doing fried foods but as healthy as I possibly can. My menu is health conscious and community oriented."
Best Stop currently has five employees, including a former cook for Ft. Lee Officer's Club.
"He's the one who convinced me that breakfast would work on this corner," Preston said. "You have to build a business — it doesn't just happen overnight."
Preston is pleased to see that more renovations are underway in the neighborhood.
"This area's being gentrified," he said. "A lot of people are coming back down here — they're not afraid anymore."
Thanks to Preston, they also have a favorite place to eat.
"I'm excited that this business has created jobs and provided a service to the neighborhood," Preston said. " You can't make a contribution to your community greater than that."