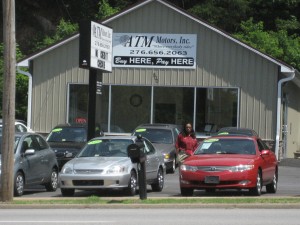 ATM Motors, Inc. is a minority-owned used car dealership that opened in 2000 by Tanja and Albert Martin in Martinsville, VA. They have been a client of the Longwood SBDC – Martinsville since July, 2008.
In 2012, they moved to a beautiful new showroom next door to their original facility which affords them a much larger outdoor lot and an indoor showroom with which to showcase particularly choice used vehicles.
Mr. Martin is responsible for securing the inventory of vehicles they offer for sale, which he does by traveling all over the Southeast to auto auctions that offer just the right vehicle for their local customers. That is a talent that very few used car dealers ever master. Mrs. Martin is responsible for sales, and their special draw is offering a "no credit check buy here – pay here privilege. This enables them to make a profit on the sale of the vehicle and another profit on the financing. Their other unique feature is that they successfully cater to the minority population of the community.  They are currently renovating their old facility next door to create an overflow lot and more space for detailing and repairing the vehicles they bring in.