CONSULTANT Diane Arnold
CLIENT SINCE 2012
INDUSTRY men's fashion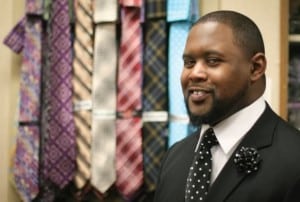 Abe Koplen Clothing has been selling fashionable men's clothing in Danville since the 1880's. When Barry Koplen met with LSBDC about succession planning, he realized that his natural successor was already working at the store. James Cousins had joined the staff right out of high school and, dreaming of someday owning his own store, had taken a start-up class with LSBDC 3 years earlier.
With the blessings of his employer, LSBDC helped James develop his business plan and secure funding, while Director Diane Arnold worked with him to develop a plan to transition the business to new ownership.
James was able to qualify for a loan with a local bank and is now the proud fourth and newest owner of Abe Koplen Clothing, his dream business. He says, "Being new in business can be confusing and scary. Thankfully, there are programs like SBDC that are right here to help with anything I need. It's good to know that they care, want to see you succeed, and are willing to help you reach your goals."