2013 SBA Excellence & Innovation Award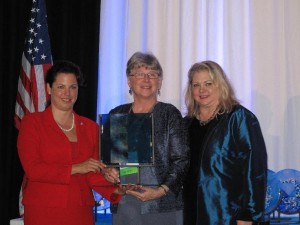 (L to R) SBA's Region III Administrator, Natalia Olson-Urtecho; Danville Center Director, Diane Arnold; SBA District Director,Jayne Armstrong.
The Richmond District of the US Small Business Administration awarded the 2013 Excellence & Innovation Award to the Danville office of the Longwood University SBDC.  Diane Arnold, Director of that office, received the award at a special luncheon at the Westin Hotel in Richmond.
Awards were presented to entrepreneurs and small business champions in the Commonwealth of Virginia who are helping to drive the regional economy and accelerate economic recovery, SBA officials said.
Through the use of full-time staff and other university resources, such as faculty and students, the Longwood SBDC offers assistance to help Virginians start a business, expand a business, or solve business-related problems. The Danville Center, as with each of the 29 local SBDC offices in Virginia,  assists small businesses throughout all phases of growth and development by using one-on-one counseling and education.