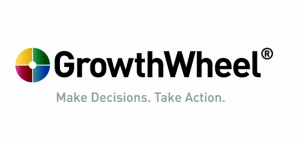 Entrepreneurs and business owners, are you challenged to keep up with the daily routines in your business, knowing you need to do more to focus on growth, but uncertain what to do?  GrowthWheel® is a hands-on, action-oriented program designed to help entrepreneurs at all stages overcome their barriers to growth.
Join Michael Duncan, a serial entrepreneur and SBDC Advisor, for a three hour introduction to the GrowthWheel toolbox designed to help early stage and growth companies get focus, set an agenda, make decisions and take action.
All businesses, from pre-venture start-ups to established enterprises, must address four key challenges. They need: an attractive business concept, lasting customer relations, profitable operations, and a strong organization.
Attendees will participate in a hands-on workshop introducing the GrowthWheel toolkit, identify your priorities, and will get a sense of how empowering it can be to work with a Certified GrowthWheel® Advisor.
Upcoming Classes:
Martinsville
Rocky Mount
Gretna
Stuart
FAQ
Q. Who is this class for?
A. These initial GrowthWheel classes are designed for people in the early stages of business ownership, looking for concrete tools to achieve measurable goals and growth.
Q. What will I learn?
A. You can expect to learn how to successfully tackle critical issues related to managing and running a business, receive hands-on training applicable to your experiences and leave with clear next steps for immediate, measurable growth in your business.
Q. What if I'd like a GrowthWheel counselor but can't attend a class?
A. No problem! Contact us and we'll schedule an initial phone consultation to get you started.
Q. How will GrowthWheel help your business?
1. It supports the decision making that we do every day.
2. It supplies a visual toolkit for dialogue, focus, agenda setting, decision-making and action taking.
3. It provides a simple action oriented process to help you grow.
4. It stays true to the way most entrepreneurs think and work.
5. It helps companies determine which areas to focus on to strengthen and grow their business.
6. It gives an alternative to the conventional business plan.
Q. What's included?
A. A selection of GrowthWheel PDF Tools including: 360 Screening, Worksheets and Articles.