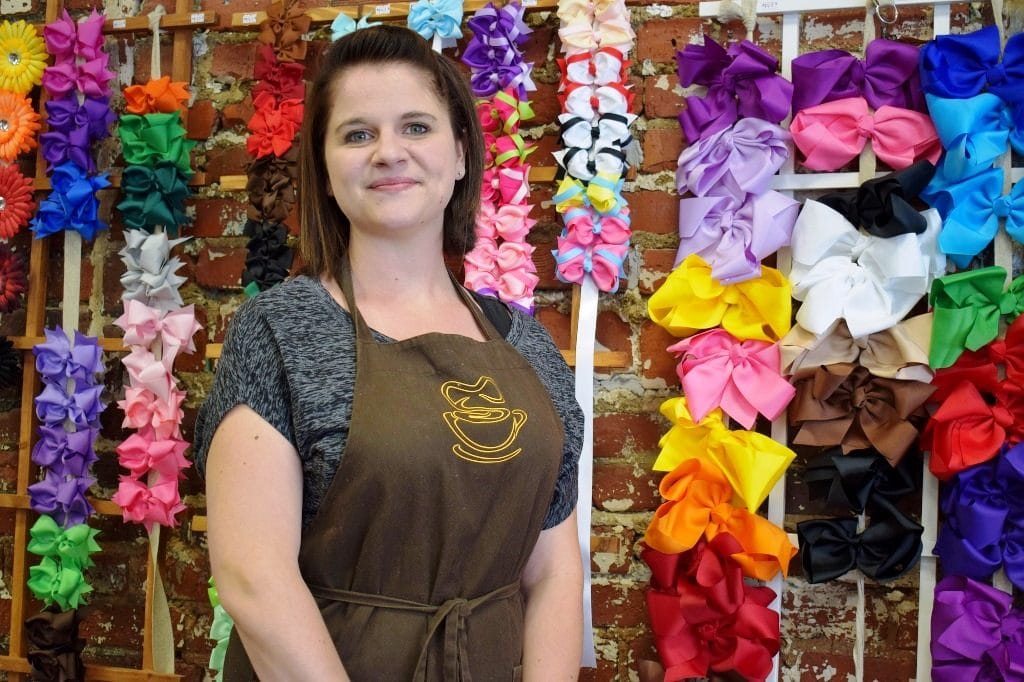 Brittany Adamson came to South Boston with plans to open a children's boutique; instead she found a town that wanted a coffee shop. Adamson came up with a winning compromise — Joe & a Bow.
Shortly after she came to town, Adamson heard about SoBo Start-Up, a six-week business development boot camp.
"Lin Hite taught the class," Adamson said. Hite is Regional Director for the Longwood Small Business Development Center (SBDC). "We went to classes for six weeks and then presented our business plans. Six of us received a grant for $10,000."
Adamson entered the competition to start a children's boutique, then decided to switch to a coffee shop. She discussed her options with the town manager, and he advised — do both! Adamson took his advice; Joe (coffee) and a Bow (hair bows) it would be!
With the $10,000 grant in hand, Adamson set out to find a building, preferably mid-downtown. When she walked into the Old Star Laundry, circa 1900, it was love at first sight.
"The owner had spent two years restoring the building," Adamson said. "The roof had caved in, and the floor at that time was gravel."
Adamson and her husband did some painting in the restored building, added a kitchen and coffee bar, and they were ready for business.
"When we opened, we started with coffee," she said. "We like to do things one step at a time. That way we stay on top of things, and we're never at a loss financially."
Adamson was able to open her business without a business loan.
"To date we have no debt," she said.
When she wrote her business plan Adamson estimated where her business would be in six months.
"It only took us a month to get there," she noted with a touch of pride.
Joe & a Bow, continuing to expand its menu, now offers soups, sandwiches and a salad bar.
"You can eat here every day for under $10," Adamson said.
In addition to food, there's an inviting array of children's items — and the signature hair bows. Customers often browse in the front of the shop while waiting for coffee or a sandwich.
"We added a children's play area and organized a morning mom's group," Adamson added.
Although it wasn't in the original plan, Adamson opened a second Joe & a Bow location recently in Halifax.
"We started with five employees, and now with both locations, we have 12," she noted.
Joe & a Bow's owner credits Lin Hite's boot camp classes for helping her start a successful business in the area.
"The section on marketing and advertising was incredibly useful, and the tools for keeping good books was really good, too" she said.
Adamson continues to take advantage of what she considers the most valuable resource provided by SBDC — networking.
"SBDC brought in CPAs and accountants," she said. "Now I have a whole networking community — that's really valuable to a small business owner."
"Our town has many small businesses — you see the owners working in their stores every day," Adamson concluded. "I love being a part of that."